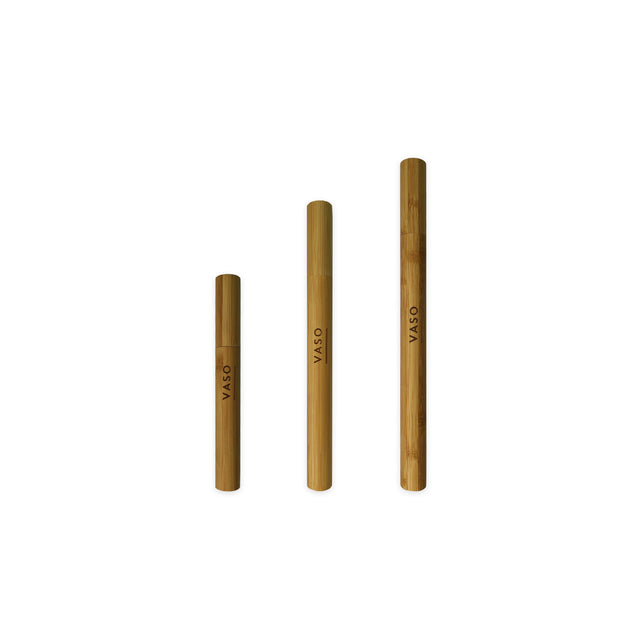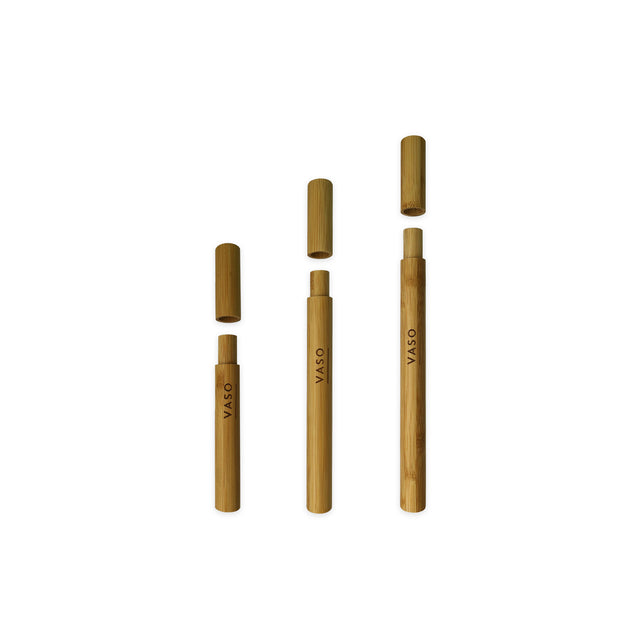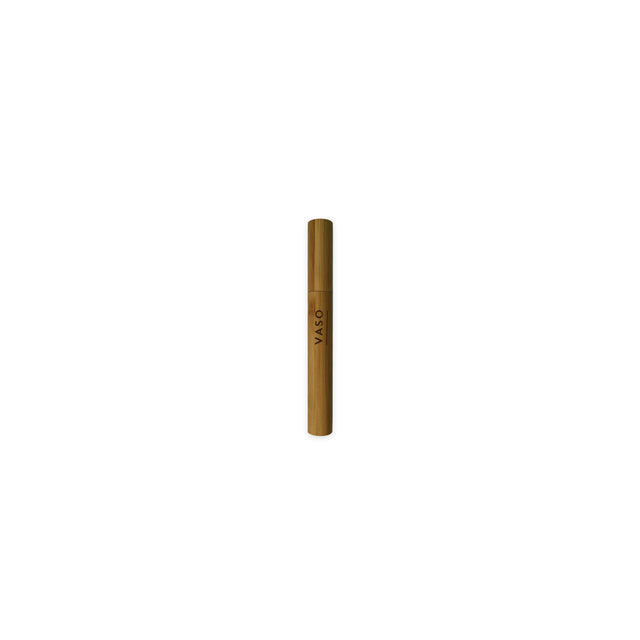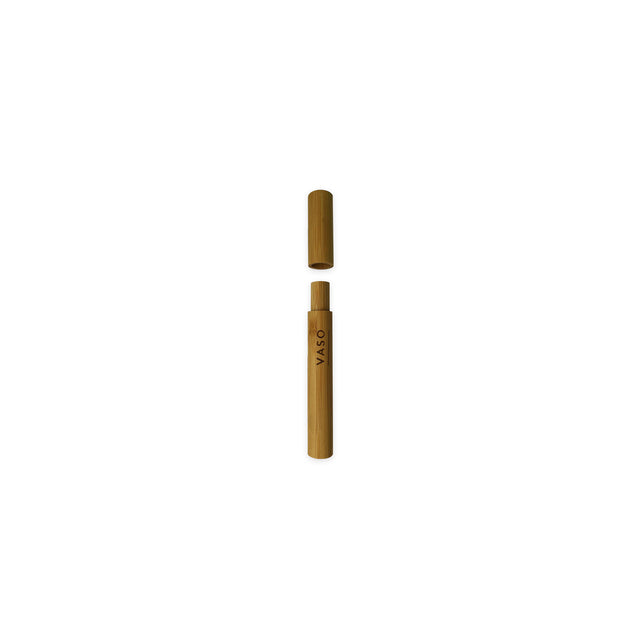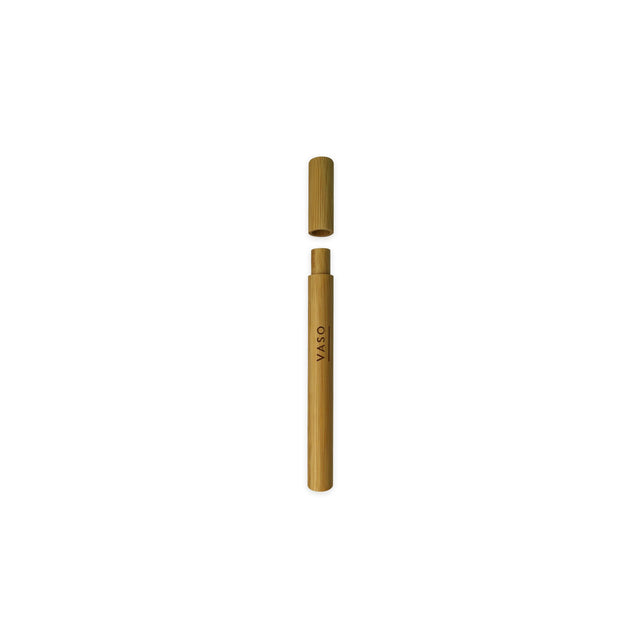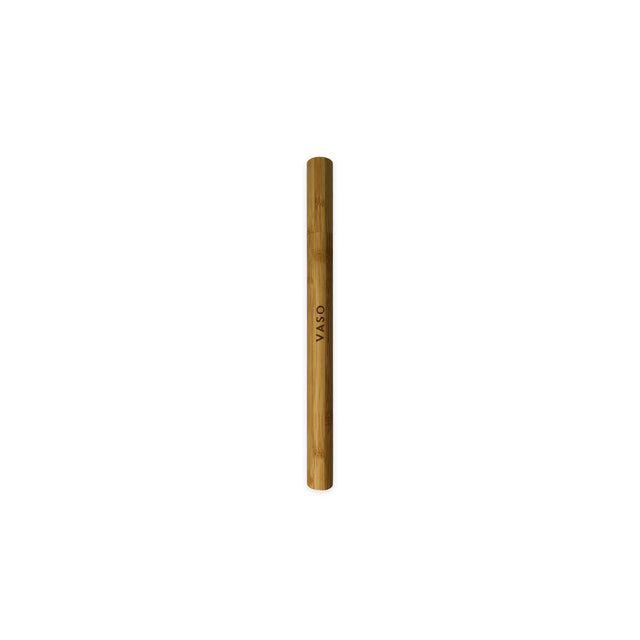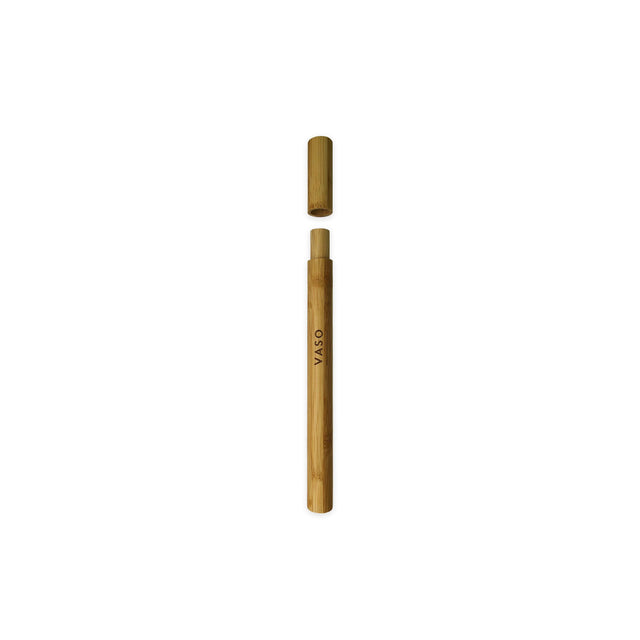 VASO Bamboo Glass Straw Case
VASO's range of bamboo cases are the perfect travel companion, allowing you to safely store and transport your VASO glass straws with you. Each bamboo case features a robust body that securely holds your straw in place and a detachable lid that encloses the straw, protecting it during travel. There is also a small air hole in the bottom of the case which allows moisture to escape following use and also allows for drainage when cleaning. The VASO logo is engraved on the outside of each case which ads a touch of style to the overall classy finish.
Each case is crafted from 100% bamboo.
Cases feature a body and lid that secure the straw.
Our logo is engraved on the outer body of the case.
A small air hole allows for moisture to escape.
Easy to clean, simply rinse with warm soapy water.
Unsure of what size straws to purchase? Then take a look at our size guide.
Please read our usage and care information before using our straws.
Delivery Information
We currently offer two delivery options on all orders outlined below:
Royal Mail Tracked 48 - £2.85 for orders under £20 (3 - 5 Working Days)
Royal Mail Tracked 48 - FREE for orders over £20 (3 - 5 Working Days)
Royal Mail Tracked 24 - £3.95 (1 - 3 Working Days)
All orders placed before 1pm Monday to Friday are shipped the same day from our UK distribution centre.
Further information regarding delivery, returns and refunds are available on their respective pages.
Usage & Care
Usage
We have some general usage guidelines outlined below. If you have any questions regarding usage and care then please get in touch with us so that we can answer your queries.
Only use our products for their intended use, i.e. as a straw for consuming drinks.
Do not attempt to chew or purposefully break the straws. Although the straws are extremely durable and shouldn't break, they should still be treated as any other form of glassware.
Do not drop on to hard surfaces or hit them purposefully on to surfaces.
Treat and care for your glass straw as you would any other glassware.
Always check straws for damage and do not use them if they become damaged.
We advise that our straws should only be used by adults.
Only use within the advised temperature range.
Ensure that the straws have been cleaned thoroughly before use.
Drinks
Our range of glass straws have been designed with a 9mm diameter so that they are suitable for a variety of drinks. From smoothies to water our straws will deliver a great experience.
Age
We recommend that our glass straws should not be used by children, but ultimately, it's at the discretion of the parent or guardian.
Temperature
VASO's range of straws have been tested to extremely high temperatures, however to ensure that the straws have a long lifespan, we recommend that they are to be used within the -40 degrees celsius to +200 degrees celsius range. Whether this is for cleaning on consuming liquids. As the straws have a thick wall (1.5mm) and are made from glass they conduct much less heat when compared to metal straws, so are great for warm or cold beverages.
Care
Please take care of your glass straws, ensuring that they are clean and not damaged prior to use. Despite the robust structural design, we advise users to treat our glass straws as you would any other glassware.
Storage
To correctly store your glass straws, we advise that users either retain packaging to house them or to place them in their own sectioned space within a cutlery draw to restrict other items causing any damage. Alternatively, we offer a range of bamboo storage cases, specifically designed to accommodate each size of our straws, providing a safe storage and travel solution.
Cleaning
To clean your glass straws, you can either place them in your dishwasher's cutlery holder and clean on any standard cleaning cycle. Alternatively wash them in the sink with warm soapy water and rinse thoroughly before allowing to dry on your draining board.
Damage
In the event of accidentally breaking one of our straws, please ensure that all of the broken glass is cleaned up and disposed of safely. Please do not use our straws if they have any cracking, breaking, chips or other damage. Always assess the straws prior to use to ensure that there are no signs of damage. Our glass straws can be recycled in glass bottle banks or via glass recycling services offered by local authorities.
Recycling
Our glass straws can be recycled in glass bottle banks or via glass recycling services offered by local authorities.
Dimensions
Outer diameter: 9mm
Inner diameter: 6mm
Wall thickness: 1.5mm
Safe Solution
Our products are produced in Germany by world renowned glassware manufacturers from strong, premium quality glass. The structure and glass quality have been engineered to provide a safe alternative to disposable straws. They are also dishwasher safe and food safe.
Easy Cleaning
Caring for your VASO glass straw is easy. Simply place them in a dishwasher or alternatively clean them with soapy water as you would any other glassware. As each straw is made from a clear glass, it's easy to see when they are clean.
BPA Free
Each VASO glass straw is manufactured from German glass and are free from BPA, toxins, plastics and mineral oils. This provides users with an unrivalled, pure taste as many other reusable straws contain these substances.
Eco-Friendly
There are various figures that have been published estimating that between 3 – 10 billion plastic straws end up in waste a year. This is why choosing a reusable straw is a fantastic way to help the environment. Every one of our reusable straws are made from sustainable and recyclable materials.
Size Selection
VASO's glass straw range includes a variety of sizes which provide the perfect fit no matter what size, style or shape of glass that you decide to use a straw with. Each straw features a 1.5cm wall and are available in 15cm, 20cm and 23cm lengths. Perfect for enjoying your favourite cocktails, gins, smoothies, warm and cold beverages.
Our Mission
Our mission is to provide consumers with a reusable solution to disposable drinking straws, that are sustainable, environmentally friendly, recyclable, safe and do not compromise on taste.